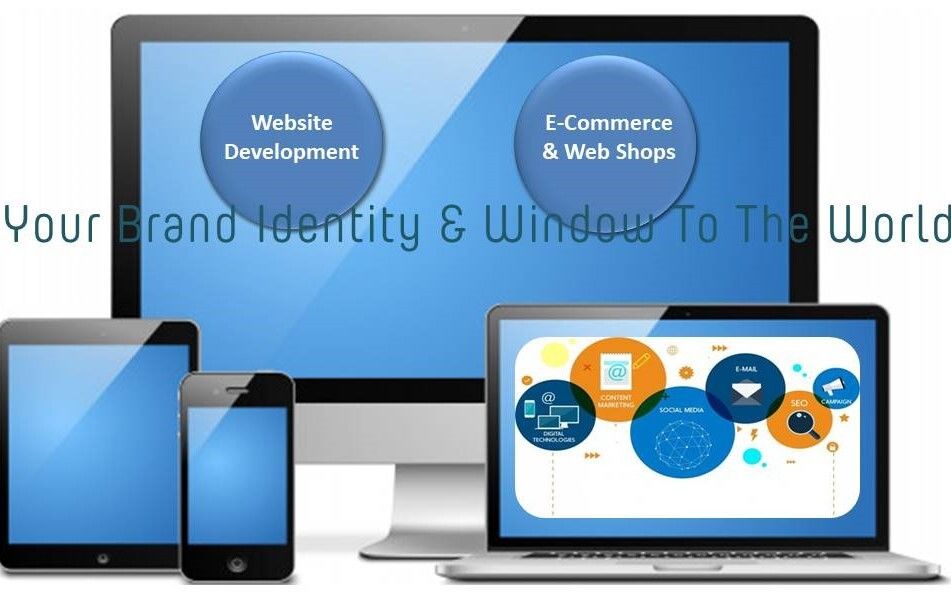 Web Presence
"Every company needs a web presence to trade, collaborate with suppliers and partners OR sell, if retail is the area of focus. Your web presence is your company's digital brand. We assist companies with going online in three ways (a) via their Website; (b) via their E-Commerce Site/Online Store; or (c) via business process Apps."
Why Choose To Work With Us
You can expect to get a high-quality responsive design for all forms of access online, mobile and using your tablet. Your site will be secure and digital marketing and SEO ready. We also ensure visitors have a pleasant experience irrespective of the medium they use and you can choose from a selection of flexible templates that can be customized to your business's needs. If you prefer a unique customised solution our experienced design and development team will be please to help bring your ideas to life with custom designs.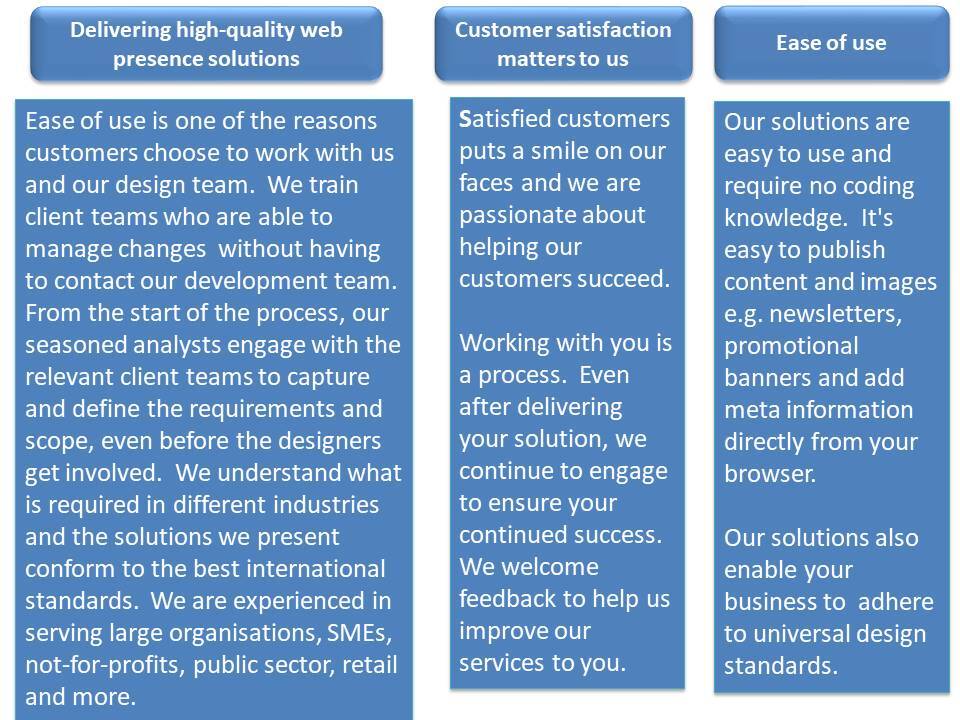 ---
We Offer Our Customers Innovative & Responsive Websites
| | | |
| --- | --- | --- |
| »TEMPLATES BASED OR CUSTOMISED WEBSITE | »READY FOR MARKETING AND SEO | »WORKS EQUALLY WELL ON MOBILE, TABLET AND PC |
| | | |
| --- | --- | --- |
| Choose from flexible templates or customised websites. Everything you need for functionality are available in the system, so you can easily customise the look and functionality according to your wishes and needs. We can also design a website that is in line with the company's visual identity and meets special needs. | We will deliver a website that meets your digital marketing and SEO needs. We are constantly developing the solution so that your website always meets the user's expectations and requiremets. | More than 50% of all traffic on the network takes place on mobile and tablets. 91% of people between the ages of 9-79 have access to a smartphone, and 77% of them use the phone to surf the Internet. We make sure that your website is responsively customised and works equally well on all devices - no matter how big or small the screen the user as. |
»»INTEGRATION TOWARDS SOLUTIONS YOU USE

»WE ARE HERE FOR YOU

»EXECEPTIONAL TECHNICAL ANALYSTS,

DEVELOPMENT & IMPLEMENTATION TEAMS
Everything is ready to integrate the website against the solutions your business uses today. For example, we can integrate the website against DHL, Mamut, Visma Global, PCKasse as well as several other office support systems, case management and archive systems. This way you save time by simplifying and automating advanced and time-consuming processes.

We offer customer service via our local support teams or remotely. We are also always at the end of an email and telephone request. If you have also acquired Opswork Workspace from us, we can also integrate with this. Our Bots solution means we can also engage outside standard office hours for some forms of queries (subject to location and service purchased.)

Standard Technical support is included in the price for monthly operations.

Our team of business strategists, analysts, designers and developers are seasoned individuals with cross-sector expertise gained from working in multiple geographies and a varied range of solutions for large organisations, SMEs, government, NGOs, retailers and more.