The Learning Journey - LNC Paths-to-Performance™
Building efficient teams for the digital age through curated learning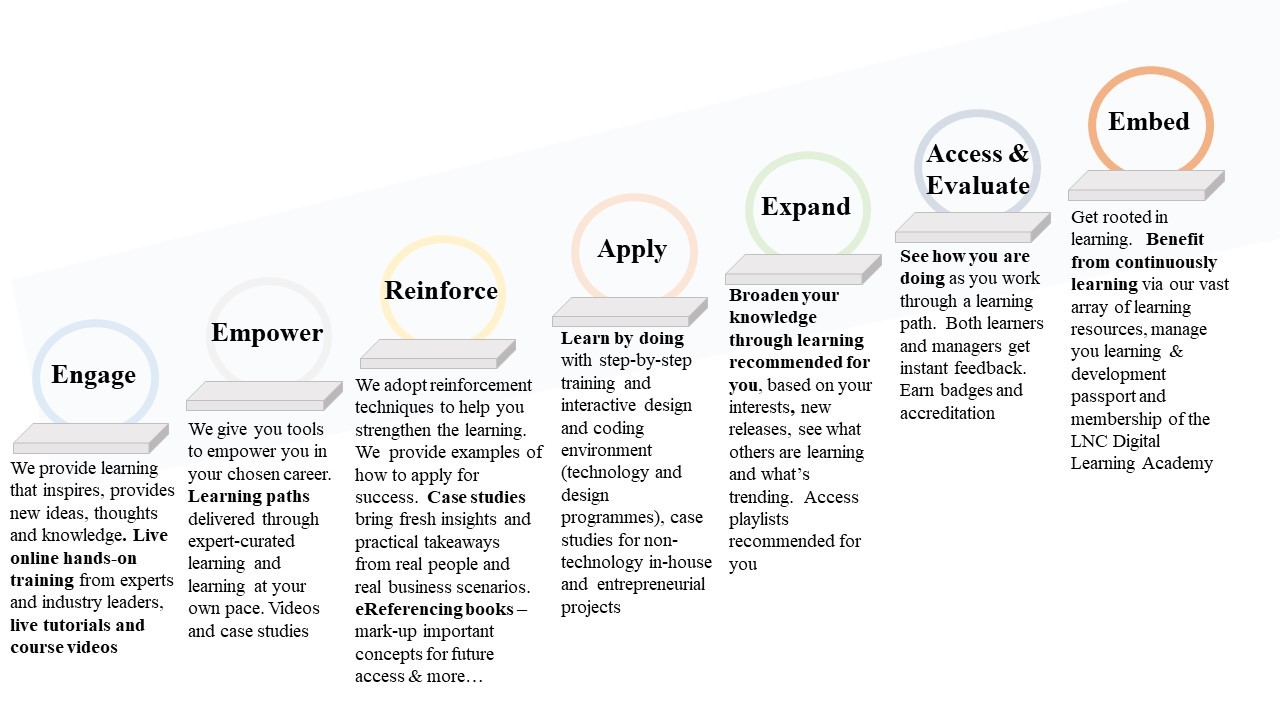 7 Effective Steps to Engage, Reinforce, Retain & Continuously Learn. Built with top educators and industry experts for applicable learning
Build your teams to work efficiently in the digital age: To be responsive to customer needs requires you to build the best teams with the right competencies and skills. Your teams must be kept abreast with current innovations, market trends and demands. Our customised digital training programmes and suite of LNC Paths-to-Performance™ 7-Step training are designed to help you develop the right skills for your teams.
These courses are managed using our processes for improving adoption and optimisation for performance and are curated by market leaders and professionals. Our comprehensive approach deliver beyond "attending training" and look to aligning your organisational learning objectives with your strategic goals for success.
LNC Paths-to-Performance™ - Build efficient teams for the digital age
LNC Paths-to-Performance™ digital learning programmes are for organisational learning and team initiatives. We cover topics as diverse as personal development, digital literacy, digital technologies, ICT, managing in the digital age, project management, facilitating & coaching, operational skills development, train-the-trainer, management and leadership and sector-focused training e.g. banking and customer services and more.
If you are an organisation looking to equip your employees with 21st Century competencies and skills in areas such as: problem solving, critical thinking innovation, communication, collaborative working, ethical practice and more get in touch and we will demonstrate how we can support your organisation.
Life-long-learning is central to the learning concepts we develop for customers and all our training initiatives are therefore designed to engender learning that supports continuous learning and learning reinforcement for staff development, retention and growth.
We will work with you to align relevant training programmes with your organisation's learning objectives to ensure they meet your specific market strategies and strategic goals. Our team is experienced in developing blended learning solutions that incorporate face-to-face learning, on-demand, experiential (on the job or entrepreneurial focused) and networked learning. Get in touch to find out how we can support your business or institution.
We are constantly adding to our portfolio of courses to enable our customers to optimise performance. Contact us to find out how we can support you in developing the skills and competencies of your organisation and teams to compete in the digital age.
BACK TO AFRICAN WOMEN IN LEADERSHIP BACK TO DISCOVER LNC PATHS-TO-PERFORMANCE
---